Smok G-Priv 3 Kit is the latest in the G-Priv series with a comprehensive upgrade in both software and hardware. The G-Priv 3 back panel adopts acrylic shell pattern panel with mellow and smooth texture, whose vibrant colors make it look more trendy and modern. Combined with the ergonomically designed chamfered edges, the box mod fits perfectly on the palm for a comfortable grip. Driven by a new intelligent IQ-G chipset, G-Priv 3 delivers new user interface and user experience. With the 32-bit processor and two 18650 batteries in series, it can reach up to the maximum output of 230W and offer a flash fire speed up to 0.001s.
To perfect the connection between the back panel and battery case, the connected place adopts large-area strong magnetic adsorption, so you don't have to worry about looseness and damage. What's more, this makes battery replacement more convenient. G-Priv 3 employs USB Type-C port, which can carry more power and offer faster transfer speed. It supports 2A super fast charge via the included Type-C cable, and balance charging will be performed when the battery levels of two batteries greatly from each other.
Smok G-Priv 3 owns a 2.4 inch super large colorful touch screen, which is quite responsive, most of the operations can be finished with a simple touch. Newly upgraded UI provides you more clear and detailed vaping information, such as VW/TC mode, vaping effect, voltage, battery life, etc. Besides, there are 6 theme colors available for screen settings. For some traditional mods, you need to press fire key for several times to lock/unlock the screen, while G-Priv 3 simplifies the operation. With this independent button, you can lock/unlock the screen easily at the state of power on.
The mod comes with a newly designed 5ml TFV16 Lite Tank with brand new honeycomb-structured mesh design. The tank is paired with two new mesh coils: conical mesh coil powered by nexMesh technology and dual mesh coil. The conical mesh 0.2ohm coil is designed for a powerful, warm throat hit with massive vapor and amazing flavor. The unique conical structure can maximum the bottom of the airflow inlet and condense the vapor as it flows through the coil to the drip tip, creating an unparalleled burst of flavor. At resistance of 0.2ohm, the coil delivers fast heating rate, intense vapor production and superb flavor output.
For the former vape tanks you can see a gasket when you screw the top cap, while in this TFV16 Lite Tank you will find gasket has changed its position to the bottom of top cap. This design makes the filling slot looks cleaner and at the same time avoid e-liquid leakage. It also has a locking press button on the top cap to guarantee the safe use of the tank, and effectively avoid accidental leakage of e-liquid if accidentally opening the top cap. In addition, it features a press-to-slide top-fifill system for simple and secure e-liquid refilling.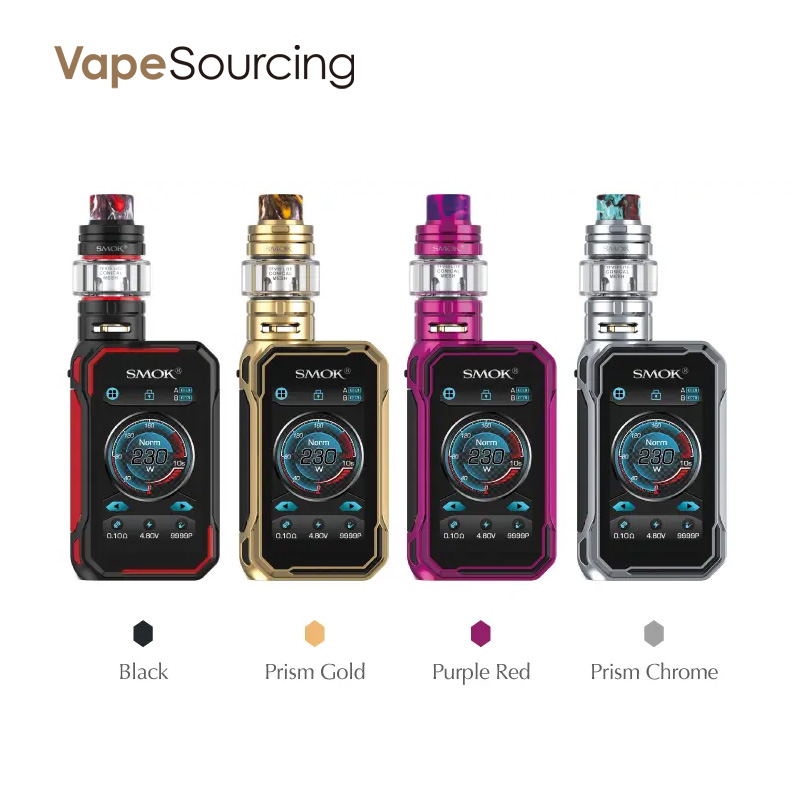 Parameters:
Smok G-Priv 3 Mod
● Size: 54 * 28 * 85mm
● Weight: 188g
● Chip: IQ-G chipset
● Working Modes: VW (Soft, Norm, Hard, Max)/TC (NI, TI, SS, TCR, Preheat)/My Mode
● Power Range: 1W-230W (VW)/10-230W (TC)
● Input Voltage: 6.4V-8.4V
● Output Voltage: 0.5V-8.2V
● Battery: Two 18650 batteries
● Firing Time: 0.001s
● Charging Port: Type-C
● Charging Voltage: 5V
● Charging Current: 2.0A
● Standby Current: <400uA
● Resistance Range: 0.1ohm-2.5ohm (VW)/0.05ohm-2.0ohm (TC)
● Temperature Range: 200°F-600°F/100C-315°C
● Screen: 2.4 inch touch screen
Smok TFV16 Lite Tank
● Size: 28 * 58.5mm
● Weight: 73g
● Capacity: 5ml
● Filling: Top refill system
● Material: Stainless steel
● Coils: TFV16 Lite conical mesh coil (0.2ohm, powerful and warm throat hit, best 60-75W), TFV16 Lite dual mesh coil (0.15ohm, massive cloud production and rich flavor, best 60-90W)
● Thread: Gold-plated 510 thread
The color scheme uses a shell series: gold shell, purple shell, 7-color shell and brick red shell, symbolizing unremitting pursuit and powerful strength. Try this new version and continue to enjoy the pleasant vaping brought by the G-Priv series.
You may also like:
new smok novo 2 kaufen
eleaf istick d