As we all know, Sigelei Snowwolf Vfeng and Snowwolf Mfeng are welcomed by many vapers for a long time, and today here comes one new pod vape kit – Snowwolf Wocket Pod Kit, which is a lightweight all-in-one vape device that made of aluminum alloy. Maybe you will fall in love with this pod mod kit below.
This Snowwolf Wocket is powered by a 1150mAh internal battery to allow the longest vape time and features 3 firing levels—(Low, Medium, High). Unlike the other pod systems available, the Snowwolf Wocket comes with a bright 0.69 inch OLED screen on the lateral side which offers instant information such as the battery life, draw time, current wattage and puff counts.
With the Insta-Fire system, this Wocket Kit supports a blazing 0.015s fire rate for sensational flavor with every draw. Wattage is adjustable by pressing the toggle button. The wattage loops from lowest to highest setting and the change will be shown on the screen. Battery charging animation, along with the power, is displayed to give you better control of the device.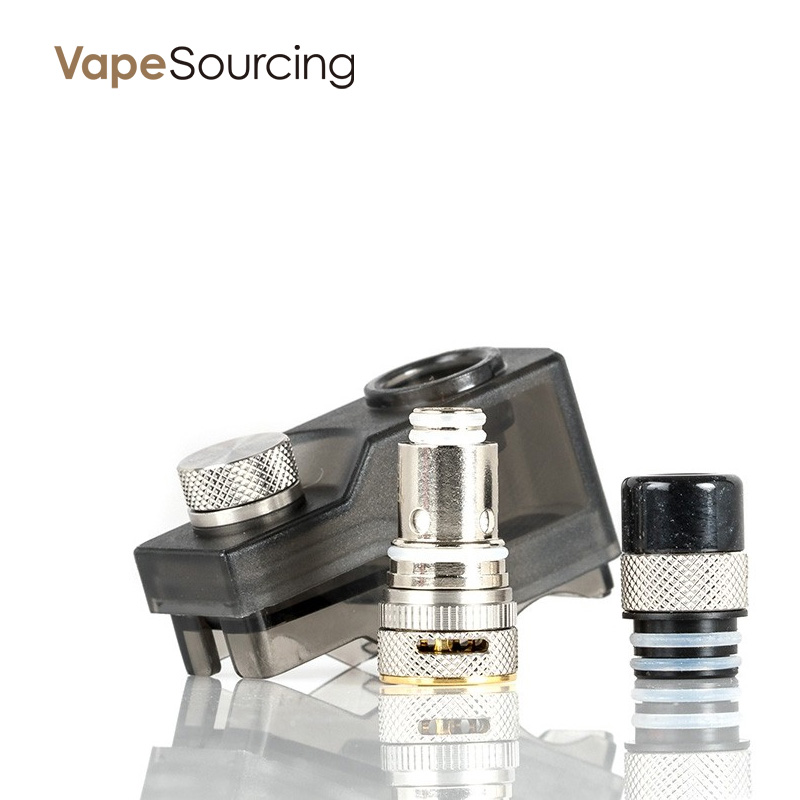 The pod cartridges of Wocket are refillable and feature a 3mL e-juice capacity and a 0.7ohm coil resistance. With the advancements in the coil process,the Wocket aims to provide a better vaping experience by expanding the lifespan of each coiling while providing the perfect flavor on each draw. Integrated in each Wocket pod is a dual adjustable airflow which is easily modified by twisting of the either the ring by the drip tip or the bottom of the coil itself.
Parameters
Dimensions: 113.3mm * 24mm * 23mm
Chassis Construction: Aluminium Alloy
Battery: 1150mAh
Juice Capacity: 3mL
Resistance Range: 1.2-3.0ohm
Coil Support: NiChrome
Screen: OLED Display Screen
3 Preset Firing Levels – High, Medium, Low
Button: Oversized Intuitive Firing Button
Refill: Threaded Top Fill System
Coils Type: 0.7ohm X-Grid Coils
Drip Tip: Resin Drip Tip
Charging: MicroUSB Port
So how do you like this Snowwolf Wocket Pod Kit? If you are interested in this pod mod kit, please go to Vapesourcing online China vape store to get one.
Order one here: https://vapesourcing.com/snowwolf-wocket-kit.html.
Read more: SMOK INFINIX 2 Kit Review: Will Beat The SMOK INFINIX!