On April 18, Vaptio has released a miniature kit – the AirGo PCC Kit, which consists of a buttonless pod system, a compact charging case and a spare cartridge. The charging case is made of plastic in an ultra-portable dimension, with a unique clamshell design, resembling the well-known headphone case. This design perfectly prevents the pods from dust and dirt, thus keeping them clean and fresh. The shaft is stainless steel and manufactured by Apple's supplier, can endure up to 100,000 openings and closings.
When you open the cover, you will find two compartments are hidden inside, one for storing the best portable vape and the other for storing the spare cartridge. The charging case has a capacity of 700mAh, which is able to charge the pod system for 7 times. In addtion, there is an LED light on the sidewall to indicate the battery level. On the front side, you can see another three-color light to indicate the charge level of the battery built-in the case.
Now let's go back to the AirGo Pod Kit itself, which is constructed in a very small dimension, coming with a laconic mod made from similar polymers and painted in the color of the case. As mentioned above, this pod kit does not have any buttons but only a small LED and a Type-C charging connector, automatically activated when you inhale. It has a capacity of 80mAh that can be fully charged in just 5 minutes, and then lasts for 40~50 puffs, depending on your personal vaping habits. As for the replacement cartridge, it has a capacity of 1.5ml with an integrated 1.0ohm coil, and can be filled through the small hole on the side.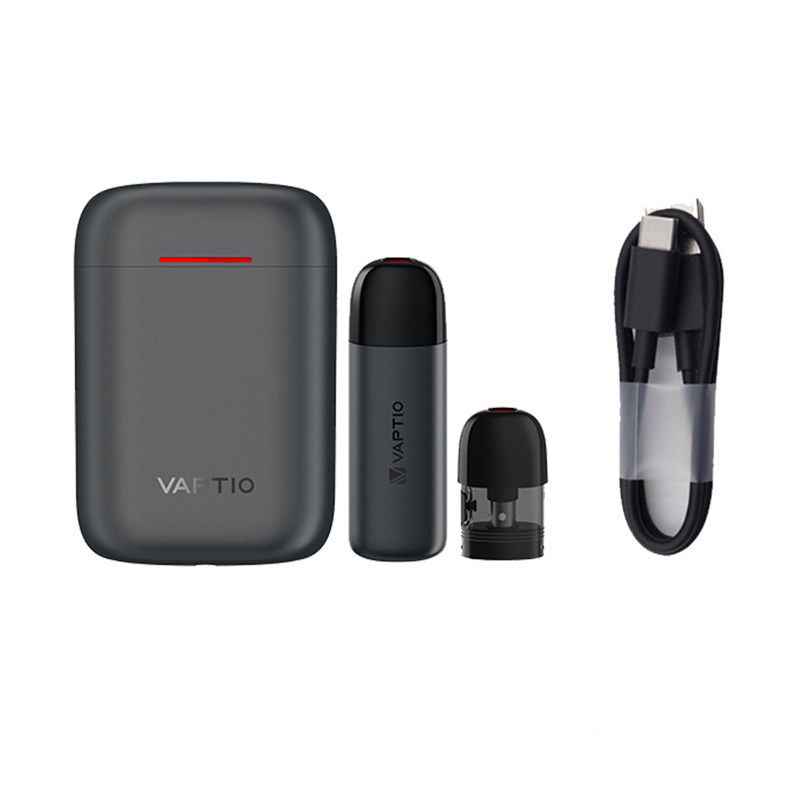 Parameters:
AirGo PCC Kit
● Size: 73.2 × 50 × 24.2mm
● Material: PC
● Battery Capacity: 700mAh
● Charge Port: Type-C
● Charge Current: 5V/1.5A
AirGo Pod Kit
● Size: 64.4 × 20.6 × 10.6mm
● Battery Capacity: 80mAh
● Pod Capacity: 1.5ml
● Fill: Side fill
● Resistance: 1.0ohm (cotton)
Designed for ease of use and portability, the Vaptio AirGo PCC Kit is absolutely the perfect choice for daily use. Small but powerful, it has gray, white and aurora blue three color options, available in china vape shop online.
You may also be interested in:
geekvape aegis pod
dead rabbit se price