Say hello to the most power-focused sub-ohm pod mod device you have ever met on the market – Vaporesso Target PM80, which is built with quality and design for its small size and big capability.
Despite its small size, it is capable of reaching max output of 80W with an internal 2000mAh battery, meaning you can vape all day without recharging. Supports 2.0A fast charging, it can be fully charged in one hour. It features a complete control panel: a convenient large ignition switch with trigger style design, a 0.96 inch TFT screen for displaying all your important vaping data and a pair of adjustment buttons.
Moreover, the Target PM80 mod pod is equipped with the Vaporessos AXON chipset, which is one of the most advanced in the industry. With the insta-fire ability, you get super flavorful clouds in just 0.001 seconds. It also has a variable mode with powerful performance that is designed to cover all gaps, and supports pulse mode to bring more powerful and delicious clouds.
The Target PM80 pod has a massive capacity of 4ml with replaceable GTX mesh coils of plug and play style for convenient installation and removal. To cutback on waste, the pods are transparent and you can have a clear clue of how much liquid left. The AXON chipset can automatically recognize the GTX coil and smart selects the recommended power output.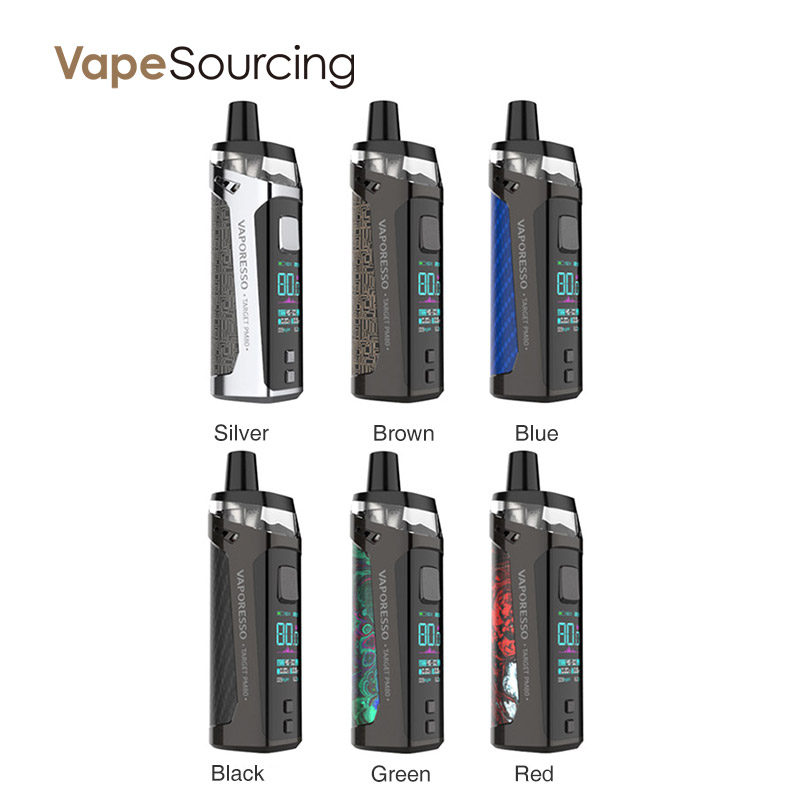 Parameters:
● Size: 102mm * 24.8mm * 33.4mm
● Battery: Built-in 2000mAh
● Power Output: 5-80W
● Cartridge Capacity: 4ml/2ml (TPD)
● Display: 0.96 inch TFT screen
● Charging Current: 2A
● Charging Port: Micro USB
● Resistance (rec-watt): GTX 0.2Ω mesh coil (45–60W), GTX 0.3Ω mesh coil (32-45W)
Vaporesso have had an amazing 2019 with a string of superb releases and look set to start 2020 with a bang by setting a new high bar for Target PM80 pod system. It meets all your real sub-ohm direct to lung vape, allows you to get more power, more clouds and more flavor, is set to become the must have pod vape for 2020.
You may also like:
grimm kit vape la revue
vaporesso vape kit