Ultroner releases its latest stabwood device, called Theia Kit, in the form of the latest pod mod trend. Stabilized wood panels on both sides of the chassis with resin patterns, make it look luxurious and elegant. The device is in a shape of slim box mod with bowed sides and beveled edging for a good hand feel, while maintaining a balance between weight and quality, but not too heavy.
Ultroner Theia Pod Mod Kit is powered by a replaceable 1000mAh Li-Po battery, and can be quickly recharged via the USB charging port. What's great about the kit is that it provides two batteries, which allows you to remove the battery and use the fully charged one, while the other one is docked. It adopts innovative Sevo chipset, supports adjustable wattage from 5W to 30W. This device has a three-button design, just like you see in many newer pod vapes. Underneath the firing button is an OLED screen to display the battery life, wattage and more.
The included 3ml refillable pod, which double as the mouthpiece, is inserted into the mod section through a crimp system instead of using a magnetic connection like other pod kits, which ensures that the cartridge do not move around. For a better flavor, the airflow is adjustable by turning a small knob located on the top. Moreover, the pod features two replacement mesh coils with resistance of 0.6ohm and 1.2ohm, which are suitable for different kinds of e-juice.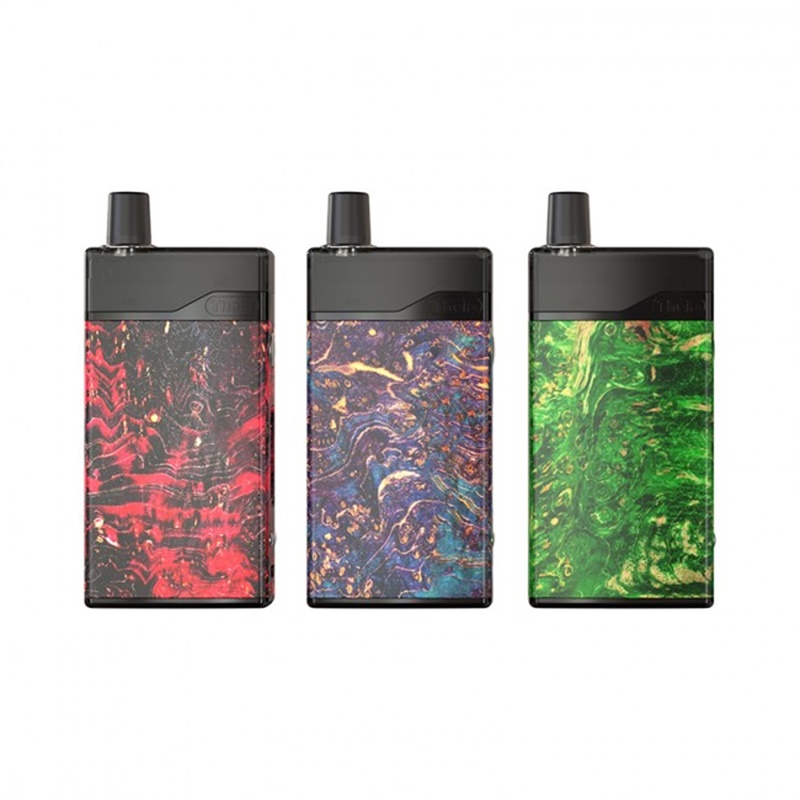 Parameters:
● Size: 42mm × 95mm × 19.5mm
● Material: Stabilized wood + metal + plastic
● Power Supply: Replaceable 1000mAh high-rate battery
● Power Range: 5-30W
● Chipset: Sevo chipset
● Input Voltage: 3.3-4.2V
● Output Voltage: 1V-8.0V
● Static Current: Under 50uA
● Cartridge Capacity: 3ml
● Coil Resistance: 0.6ohm/1.2ohm
● Impedance Range: 0.1-3ohm
● Charging Port: Micro USB port
● Charging Current: 1A
● Connector Type: Crimp, without magnets
● Protections: Low/high resistance, over-heat, short circuit, low/high voltage
● Color: Blue, green, red
If you are looking for a unique and best pod vape, or a fan of luxury stabwood devices, just check out this Ultroner Theia Pod Kit. Each color option is completely different, so each and every Ultroner Theia is unique.
You may also like:
dovpo mono sq signature mod
rpm80 pro price