The SMOK RPM80 and RPM80 Pro Pod Mod Kits are the latest and first products made from SMOK for 2020. In the past 2019, SMOK as the leading manufacturer in the vape industry took the first step and introduced the innovative and brand-new pod mod kit – SMOK RPM40, which has swept the globe quickly. The RPM80 and RPM80 Pro are the upgraded and more powerful version of the SMOK RPM40 Pod Mod Kit, which are marketed as the next game-changer in the field.
The SMOK RPM80 and RPM80 Pro combine the portability of a pod system and the versatility of a Mod, making them ideal for on the go use and suitable for a beginner. Constructed from zinc alloy, the Kits are sturdy and solid. The well-designed pattern on both sides makes them stand out. The SMOK RPM80 and Pro provide you a straightforward and concise interface. Whether you are a novice or an experienced vaper, you can easily operate and enjoy your vaping. The 0.96-inch screen with the new UI design shows the important vaping data.
You will get two RPM80 cartridges from the package with different replacement coils – SMOK RPM pod and the SMOK RGC pod. The RPM pod is compatible with the original SMOK RPM series. The RGC pod is matched with the innovative NexMesh conical 0.17ohm coil, which is pre-installed.
The SMOK RGC pod has a bottom adjustable airflow design, which is the first pod with adjustable airflow by SMOK. The airflow ring at the base can be rotated to adjust the airflow intake. The brand-new 0.17ohm RGC conical mesh coil powered by nexMesh Technology features the innovative and special conical structure, which can enlarge the airflow inlet and compress the vapor when it goes through the coil to the drip tip. Both of the pods can hold 5ml maximum e-liquid.
The differences between RPM80 and RPM80 Pro is the battery type. The SMOK RPM80 is driven by a built-in 3000mAh battery, and the RPM80 Pro is powered by a single 18650 battery (Sold Separately). The RPM80 Pod Mod Kit is shorter than the RPM80 Pro due to internal battery.
After the above short description, have you got a general idea about the two setups? Which device will you choose?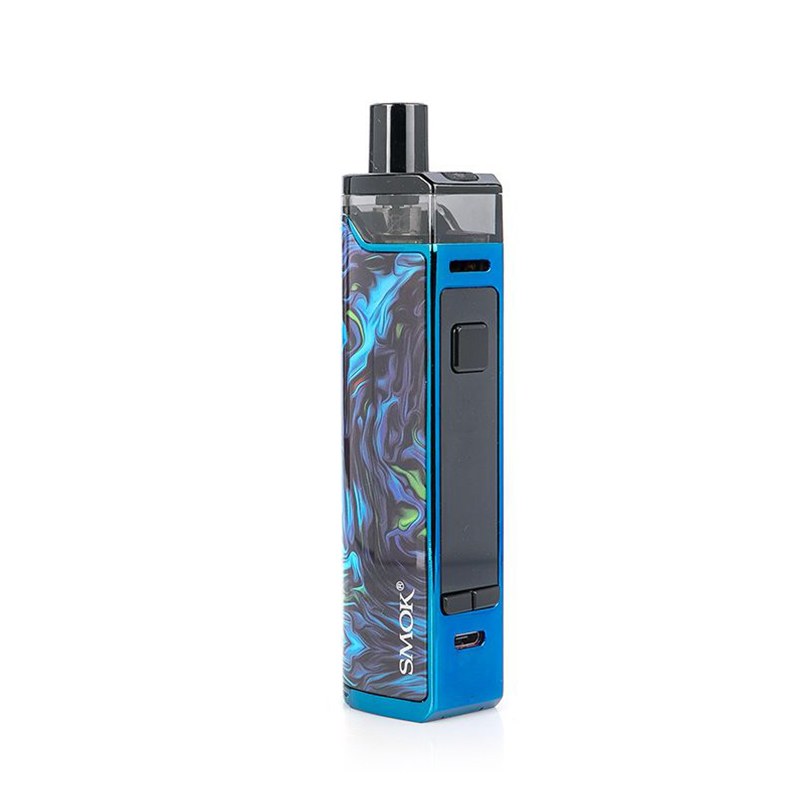 Parameters
SMOK RPM80 Kit
Size: 109mm(Height) * 31.55(Thickness) * 26mm(Width)
Weight: 125g
Battery: Built-in 3000mAh battery
Output Wattage: 1W-80W
E-liquid Capacity: 5ml
Resistance Range: 0.1ohm-3.0ohm
Coil Type: RPM Mesh 0.4ohm coil (pre-installed)
RGC Conical Mesh 0.17ohm coil
Charging Port: Micro USB Port
Screen: 0.96″ color display screen
Colors: Black Stabilizing Wood, Red Stabilizing Wood, Fluid Gold, Fluid Blue, Black and White Resin, 7-Color Resin, Black Carbon Fiber
SMOK RPM80 Pro Kit
Size: 118mm(Height) * 31.5(Thickness) * 26mm(Width)
Weight: 97.3g
Battery: Single 18650 battery
Output Wattage: 1W-80W
E-liquid Capacity: 5ml
Resistance Range: 0.1ohm-2.5ohm
Coil Type: RPM Mesh 0.4ohm coil (pre-installed)
RGC Conical Mesh 0.17ohm coil
Charging Port: Micro USB Port
Screen: 0.96″ color display screen
Colors: Black Stabilizing Wood, Red Stabilizing Wood, Fluid Gold, Fluid Blue, Black and White Resin, 7-Color Resin, Black Carbon Fiber
Other items you may also want
vaporesso target pm80 se kit
vaporesso target pm30 kit