Smoant was one of the first major vape mod manufacturers to jump on the pod system bandwagon. But instead of simply riding the wave and putting out new designs of basically the same functionality, the Chinese manufacturer decided to change the game and create the world's first rebuildable pod system: Smoant Pasito.
The Pasito is apparently made of aviation-grade aluminum, which explains why it feels so light in the hand, and measures 102mm x 38mm x 18 mm. The Smoant Pasito features a built-in 1,100mAh battery, which is pretty much the largest capacity battery ever. Starting at the top, it has a sleeve-style resin drip tip that matches the artwork on the mod. Pasito connects to a metallic top cap that also acts as a cap for the fill port. The tinted plastic pods hold up to 3ml of e-liquid and feature adjustable airflow. On the top of the pod, opposite the drip tip, you'll see this little plastic nob that you can flip one way or the other to open or close the airflow. It has very short travel, so even though you can try to tweak the airflow in between closed and wide open, you won't feel too much of a difference.
The Smoant Pasito is a more advanced pod system than we're used to seeing. First of all it's a manually-activated device whereas most other pods have a draw-activated switch. There's also a power adjustment button under the fire button, which allows you to tweak the wattage according to the resistance of the coil-head or personal preference. On the larger sides of the mod, Smoant went with two resin-like panels that really help the Pasito stand out. On one side of the mod, you'll also see five LED indicators that act as both battery life indicators and power indicators.
There are two coils included in the pod. The 1.4ohm Ni80 coi is best for Mouth to lung (MTL) vapers and high nicotine / nic salts e-liquid. The 0.6ohm Mesh coil is best for Direct to lung (DTL) vapers and lower nicotine strengths. You may also purchase a rebuildable coil separately. Basically there is a deck where you can add a coil and wicking of your own. The Smoant Pasito deck is pretty tiny so it is really funny to build the coils! Comparing with the Geekvape Ammit MTL RDA deck, the Pasito RBA deck is quite small at 22mm diameter. As for the RBA coil vapers will build, this to the resistance you want but from the size of the deck it looks like you will be somewhere between the resistance of the two stock coils.
Have you purchased the Smoant Pasito? If not, welcome to order via vapor sales online. Powerful pod system kit, unique vaping experience. You deserve it.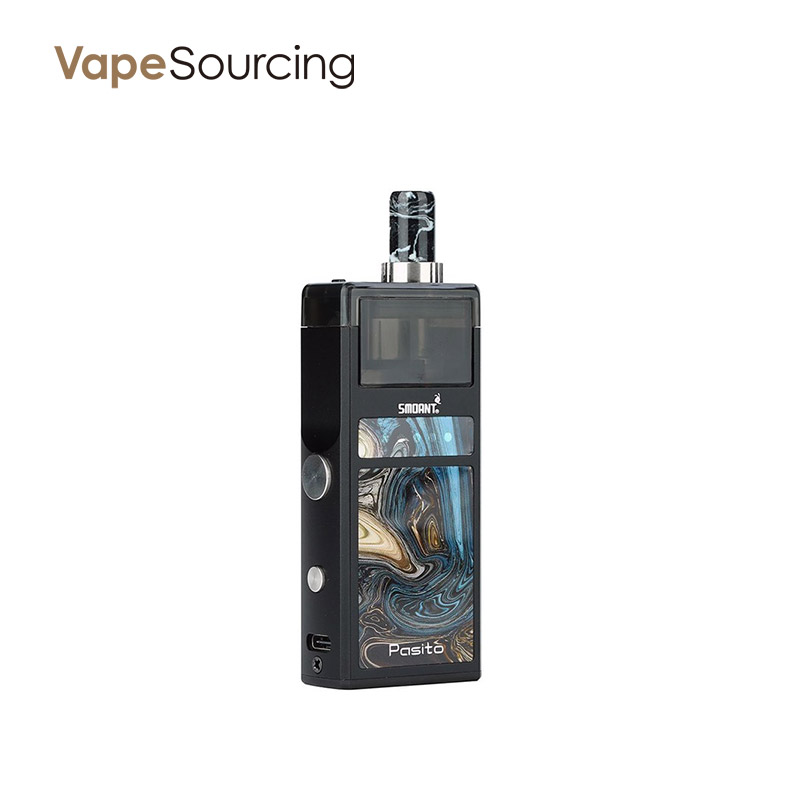 Parameters
Size: 102x38x18mm
Material: Space Aluminum
Battery Capacity: 1100mAh Built-in Battery
Wattage Range: 10-25W
Pod Capacity: 3ml
Resistance Range: 0.3-3ohm
Voltage Range: 3.2-4.2V
Charge: 5V/1A
Conversion Rate: 95%
Cartridge Size: 45x36x18mm
Cartridge Material: Food grade PCTG
You may also want
https://vapesourcing.com/aspire-bp60-kit.html
https://vapesourcing.com/dovpo-college-dna60-mod.html