Hey guys, do you want to know what's the big news about smok vape company? Let me tell you that they released the two new vape kits recently-the Mag Grip Kit & R-Kiss kit. That's a exciting news!
SMOK Mag Grip Kit 100W with TFV8 Baby V2 Tank
Smok released SMOK Mag Grip Kit is a new style looks like a "Gun" and from a first glance, it appears to be a Mag and H-Priv 2 mashup! The Screen is mounted on the top next to the 510 connector – hence why it also reminds me of an H-Priv too. You can use the Grip with a single 18650 battery and it will output up to 85W. BUT you can also use a single 20700 or 21700 battery and the output will go up to 100W!
The kit includes the new TFV8 Baby V2 more difficult naming conventions! Plus this tank looks so weird like it has been squashed and is bulging in a middle way more than a normal bubble glass would. There are 2 new coils for this kit the Baby V2 S1 (single mesh coil 40-80W 0.15ohm) and the Baby V2 S2 which is a standard dual coil (0.15ohm 30-70W.
There are 4 colors to choose from – Black/Red, Prism Chrome/Black, Red/Black, and Prism Blue/Black.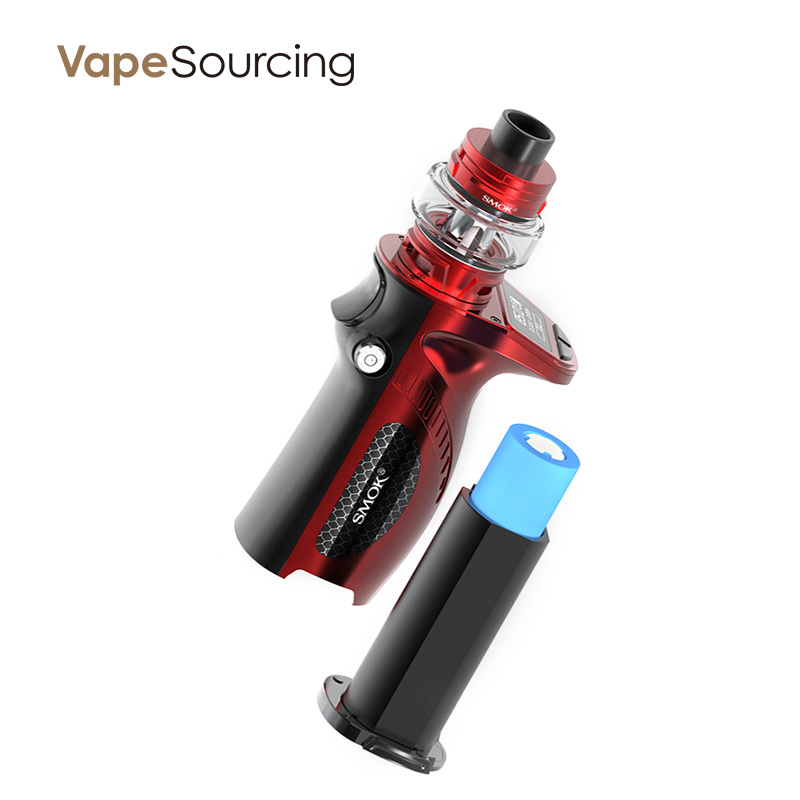 SMOK Mag Grip Kit Includes

Smok Mag Grip Mod
Smok TFV8 Baby V2 tank
Baby V2 S1 coil
Baby V2 S2 coil
Spare glass
USB cable
18650 battery adaptor
Spare parts
User manual

Smok Mag Grip Mod Specs

Size: 91.5x67x38mm
Battery: 1×18650 / 21700 / 20700 (not included)
0.66in OLED display
Output: 85W (18650) or 100W (20700/21700)
Resistance range: 0.1-2.5ohm (VW) / 0.05-2ohm (TC)
Temperature range: 200-600°F / 100-315°C
Firmware upgradeable

Smok TFV8 Baby V2 Tank Specs

Size: 30×54
Capacity: 5ml
Coils: Baby V2 coils
Coils wicked with antibacterial medical cotton
Sliding locking top fill cap
Bottom adjustable airflow
SMOK R-Kiss Kit 200W with TFV-Mini V2 Tank
The Smok R-Kiss kit on first impressions makes me think this is the sort of kit that Smok does well. For a start, the name "R-Kiss" comes from the acronym "Keep It Simple Stupid" and this is the core of the mod design. There is only a Variable Wattage power mode and a newly designed user interface which has also been simplified. The mod is apparently the smallest 2×18650 battery mod and will output up to 200W.
In the kit, you get the TFV-Mini V2 tank.
The coils come in Single (A1), Dual (A2) and Triple (A3) mesh versions.
There are 5 colors to choose from – Black/Red, Red/Black, Silver/Black, Gold/Black, and Navy Blue/Prism Chrome.
Where to buy the two SMOK new kits? Just go to cheap vape store to pre-order!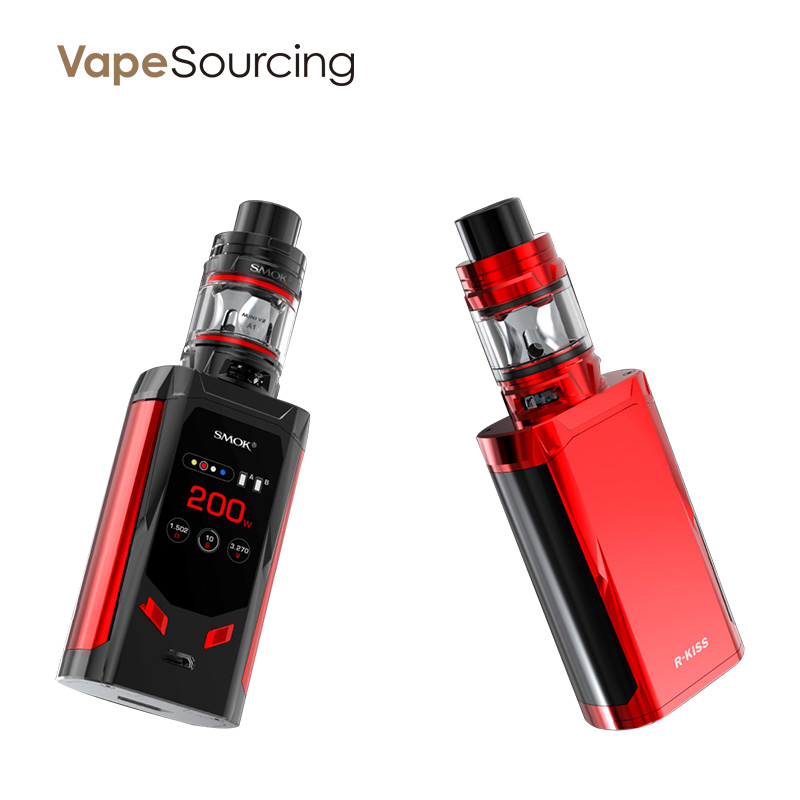 Smok R-Kiss kit Includes

Smok R-Kiss Mod
Smok TFV-Mini V2 tank
Mini V2 A1 coil
Mini V2 A2 coil
USB cable
Spare parts
User manual

Smok R-Kiss Mod Specs

Size: 78x44x28mm
Battery: 2×18650 (not included)
TFT Colour display
Output: 200W max
Resistance range: 0.1-2.5ohm (VW)
Firmware upgradeable
Side fire bar
Selectable screen color schemes

Smok TFV-Mini V2 Tank Specs

Size: 25.4x65mm
Capacity: 2ml
Coils: Mini V2 coils
Coils wicked with antibacterial medical cotton
Sliding locking top fill cap
Bottom adjustable airflow
>You may also like:
https://vapesourcing.com/lost-vape-orion-kit.html
>More News: