Vandy Vape and Tony B are at it again, and the latest product to come out of their collaboration is a dual-18650 Pulse squonk kit. The Pulse Dual mod is the smallest massively produced dual-battery squonk mod on the market and is rated for 220 watts. The kit is also premiering the Pulse V2, an RDA that can be used for single and dual coil builds due to its innovative design.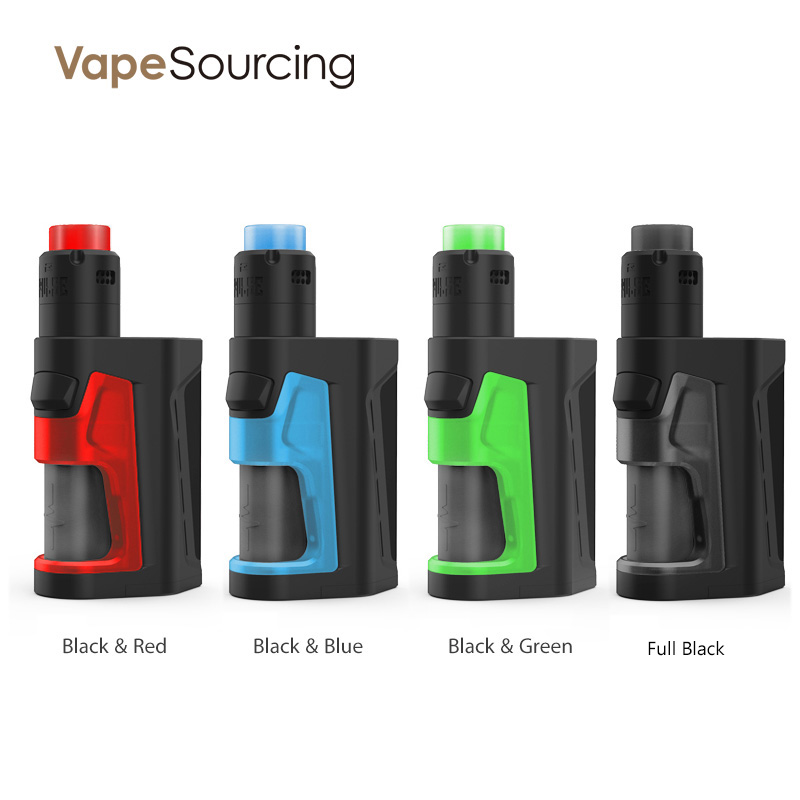 Dimensions (Pulse Dual): 75.3 mm x 52.9 mm x 41.7 mm
Power range: 5-220 watts
Working voltage: 6.4-8.4 volts
Working current: <50 amps
Output voltage: 0.5-8 volts
Coil resistance range: 0.05 – 3 ohms (TC: 0.05-1.5 ohms)
Dimensions (Pulse V2 RDA): 24 mm x 32.4 mm
Pulse Dual kit
Accessory bag
User manual
Airflow rings (3)
Weight: 470 grams (including package)
The mod features the Vandy chip with its latest update, which this time comes with a rectangular screen. Functions, settings, and navigation will be familiar, as they are similar to the Pulse 80 and Pulse X mods. It also comes with a black lightweight metal frame and colored plastic panels; the colors and design of the panels give the mod a similar look to the Simple Ex. The only shortcoming of this design is that the squonk bottle is proprietary and limited to 7 mL vape juice. Fortunately, Vandy Vape will offer replacement bottles at very affordable prices.
The mod is available separately, or as part of a kit, paired with the Pulse V2 RDA. This is the fourth dripper of the Pulse line and seems to be the most innovative one yet. It comes with a deck that reminds me of the Pulse X RDA, but instead of the "X" shaped posts being horizontal, they are now vertical. In fact, the Pulse V2 adopted part of the Pulse X squonking system, as liquid feeds from the top of the deck, and returns to the bottle from the bottom.
Vandy Vape will make the Pulse Dual kit available for purchase in time for Christmas. What do you think of the Pulse Dual kit? Will it be your next dual-battery squonker? Just purchase it at vapesourcing best online vape store!
>You may also want:
https://vapesourcing.com/vandy-vape-berserker-v1-5-rta.html
>Read more: